Bringing Suzhou Village to the world
奥美 2014-10-18 16:26:03
Bringing Suzhou Village to the world
It takes an audacious brand to choose lines from William Blake's Auguries of Innocence to capture the essence of its new business in China, but Value Retail has been a globally recognised force for innovation since it opened Bicester Village in 1996.
To see a world in a Grain of Sand,
And a Heaven in a Wild Flower,
Hold Infinity in the palm of your hand,
And eternity in an hour.
Auguries of Innocence by William Blake
In his Auguries, Blake wrote about seeing "a world in a Grain of Sand" and "Heaven in a Wild Flower". Blake's lines are an exhortation to see artistry and beauty in every aspect of human life. The poet's iconic words appear in a gift being prepared for guests who will attend Value Retail China's grand opening celebration on October 16, when it will officially unveil Suzhou Village, its first shopping tourism destination in China.
For China, Value Retail has pushed the boundaries of the shopping experience once more, to create a destination that is a playground for self-expression and where art, architecture, design and music serve to heighten self-awareness, turning the acquisition of style into an opportunity for personal growth.
The grand opening will be a global event and guests will experience an integration of architecture, style, art and creativity beyond anything retailing has seen before as Value Retail turbo charge the shopping experience into an art form, calling on the spirit of Blake to show guests how they can "hold infinity" in the palm of their hand if they open up their hearts and minds.
Suzhou Village has come to life in one of China's most ancient cities, the former capital of the Wu culture, which draws over eighty million visitors per year, with many coming in search of their heritage and sense of identity.
The Wu Culture was China's principal point of contact with foreign civilisations for three centuries, absorbing them and introducing them to the rest of the country. The city has always had a global vision, which makes it a perfect match for Suzhou Village's international blend of style, art, shopping, culture and enchanting architecture. Internationalism.
The inspiration for the October 16 celebration begins with the Village's architecture, which has been crafted in a manner that resembles a movie script rather than a blueprint.
Value Retail's Brian Garrison, who has designed eight of the company's European villages, imagined that Marco Polo visited the beautiful Yancheng Lake site in the late 13th century, leaving some men behind to build a merchant town with vernacular architecture inspired by their journey along the Silk Road. Garrison's team made sketches of what these medieval buildings might have looked like and these became the basis of construction drawings. A short form of describing our architecture.
Garrison's poetic work has given Value Retail China a perfect stage for integrating the shopping experience with expressions of art, creativity and personal exploration. At the heart of the October celebration will be a series of experiences curated by Davide Quadrio of ArthubAsia, who collaborated with Value Retail China in creating the Suzhou Village event.
Taking a lead from Blake, Value Retail and Quadrio saw something profound in the shopping experience, namely a deep longing for unique forms of self-expression, especially in China.
The exploration of self has become the driving force behind a new wave of Chinese consumers who have chosen style and fashion as a way to explore freedom of thought and self-awareness. These new era consumers demand a shopping tourism destination where art, architecture and performances are lyrical and poetic expressions of an experience that takes them beyond the concerns of their daily life. The notion of travel, and of tourism.
"Art is not decoration, or an excuse for people to feel entertained," says Quadrio. "I thought of this project as a further exploration of the concept that through the architecture of the village and its marriage with art we have a truly mature expression of Value Retail's offering to the world. Style is art, design is art; the Village is art."
By thinking of Suzhou Village as an art form, Quadrio has acknowledged the latest innovations in the Value Retail culture, namely that shopping, art, ballet, style, music and fashion belong together on the same platform because they are aspects of the creative spirit, entwined like the dancer and the dance.
The integration of art, shopping and self-expression into a unified experience and form of creativity is a profound expression of China's appetite for culture and travel and the global experience that is now being developed in the great Chinese cities. This is the source of Yi (brilliance) at Suzhou Village and it is reflected in the new consciousness of sophisticated Chinese consumers.
"My work and the work of my team is that of a cultural translator, a link between various parts of the world that are somehow interpreted and expanded with a mutual creative process," says Quadrio. "We are bridging the local and non local into a global experience that is free to travel the world and is not restrictive or dated.
"Suzhou Village is not a venue for exhibitions or entertainment, it is a art form that creates the unexpected, the surprise factor that will bring the visitor to a real and authentic experience of their self in relation to the spirit of creativity.
This is real luxury, this is what is means to have 5 star hospitality within a retail environment, creating unique and memorable moments."
On the morning of the event the Village will open at 10:00 am, its usual time. The unusual element will be the expectation that something unique is about to happen. The experiences that will unfold during the course of the day have been in development for a year. They represent a climax in the emotional development of Value Retail's innovative platform that will define Suzhou Village as a unique destination for Chinese consumers.
At 2:00 PM global media will begin to arrive and will be offered a curated tour of the Village. At 3:30 PM performances will begin at random points in the village, providing the first hint that a transformation is taking place, one that represents the full bloom of a vision that has been several years in the making. Invited guests will begin arriving at 5:00 PM and beverages will be served in the Garden and VIP area.
As dusk begins to settle on the Village, Strange Fruits will begin their expression of brilliance and style on left side of the Riviera. Their stunning artistry will be followed at 7:30 PM by an official ceremony on the main stage. Guests will then be invited to transfer to the designated area for the show sequence, which will begin at 8 PM.
After the activities on the main stage, performers and musicians will appear throughout the village and the boutiques will reopen. From 9:00 PM the guest VIP area will be alive with beats from DJ Patrick Vidal and Pierre Giner projection will bring the Village architecture alive like pages from a magic book.
Visitors to the Grand Celebration will also be able to enjoy these other aspects of the Village's creativity platform:
The Thousand Silk Threads Cathedral – The Freedom to explore
A soaring installation, the Threads Cathedral has inspired fashion shoots and expressive interpretations of Suzhou Village and its innovative spirit. Complete with a soundscape and dancing lights, it gives guests an opportunity to enter the story telling of the Village and be thrilled by the refinement that this artwork inspires. The cathedral-like space reflects the respect Value Retail has for the dreams and memories of pioneers, whose journeys between East and West helped to shape the modern world.
When Marco Polo came to Suzhou in 1276 he began to sew a tapestry that bound China and Europe together in trade and friendship. In this space thousands of threads ascend to the heights, capturing the spirit of travel. The soaring architecture of the installation reflects the way a new voyage can lift our spirits with the joy of discovery.
At the heart of the work, animated silk threads weave out scenes of experience, memory and emotion derived from Marco Polo's epic adventure. In the ever-changing shapes can be found the myth of the Suzhou Village Mermaid and the Silk Knot that is the symbol of the Village's core values – heritage, innovation, creativity and experience.
Zhou Jie, a stage and costume artist who in 2009 designed an iconic scene in Wong Kar Wai's film The Grand Master directed the Thousand Silk Threads Cathedral animation. Huzi, an established artist in Beijing's underground music scene designed the beguiling soundscape that accompanies the exhibition.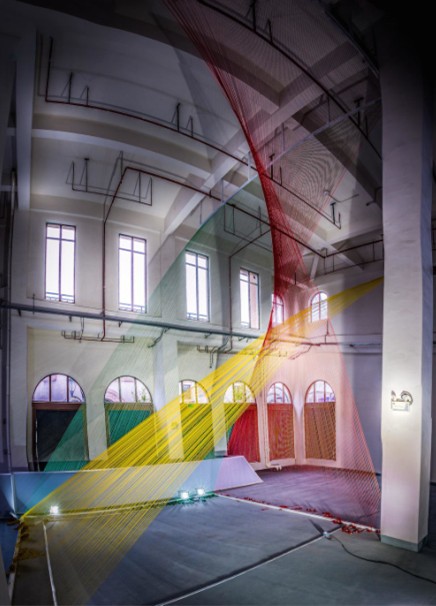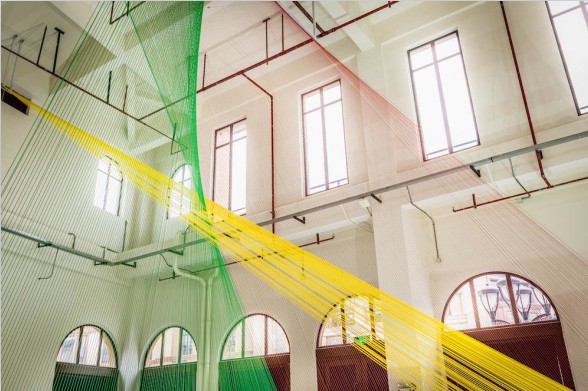 October 11- December 15
Pierre Giner's iconic images of international youngsters are the basis of the last video installation that prepares the blooming of Suzhou Village. Giner's work links style with contemporary Chinese textiles and NYC's street culture and elevates both to a new level of sophistication and fun.
Surprises are waiting
Moving around the Village, guests will be surprised in October by randomly scheduled activations. Follow the music and props and objects that appear and disappear within the village as fleeting expressions of Suzhou's spirit. These original creations by Xiao Ke and Zhou Jie, produce a layered experience that combine with our guests' passion for self-expression and the Village's articulate architecture, which tells the story of Europe's embrace of China. The 10 different scenes were performed throughout the summer and will be summarized in a final visual narration with all participating artists at a finale show on October 16.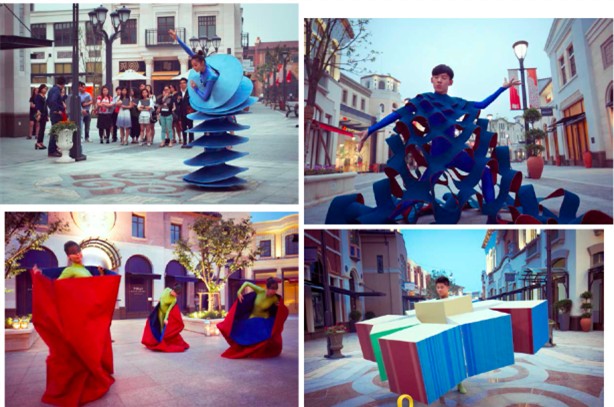 Grand Celebration participants and creatives
Arthub Asia – Creative Direction
After managing the BizArt Art Centre in Shanghai for a decade, Davide Quadrio created Arthub in 2007 as a platform to support artistic endeavours in Asia. Arthub is now one of the 12 worldwide network partners of Prince Claus Fund (the Netherlands) for South East Asia
Zhou Jie – Director Thousands Silk Threads
A stage and costumes designer, Zhou Jie has been active in Shanghai and China for over twenty years, working on project such as Aida by Maggio Fiorentino, Florence (2000) and various productions with the Shanghai Grand Theatre. In 2009 Zhou designed one of the most inspiring scenes in The Grand Master by Wong Kar Wai.
Boiler Corporation – Creative Management
Boiler Corporation is a creative agency and publishing house established in Milan in 2001that provides solutions for companies, institutions and publishers in Italy and abroad.
APAX Group – Production
APAX production was established in 2006, with fully equipped factories in Shanghai and Beijing. APAX Production is proud to be the key production suppliers of APAX Group for their premier events.
Uovo Project - Performers Management
Uovo is an international and undisciplined project that promotes contemporary creativity in its diverse declinations and expressive formats, going beyond the traditional division of genres and places of representation. A nomadic and undisciplined path that reflects on identity and creativity in the contemporary city, promoting the search of new forms of expression related to generational trends. Uovo presents internationally renowned and emerging artists that do not rigidly identify with traditional disciplines (theatre, dance, visual and plastic arts), but work across all of them. (uovoproject.it)
Recipient Collective – Visual and creative content
Recipient Collective is a Milan based collective of freelancers with rich and extensive areas of expertise which include multimedia communication, technology research and Audio/Video productions with in-depth knowledge at technical and operational level on artistic and commercial, as well as aesthetic and creative projects.
Nicole & Norbert Corsino – Artists
Interested in the kinetics of bodies and landscapes, Nicole & Norbert Corsino explore areas where dance can appear suddenly and be written to show how the movement of bodies modifies their nature. (nncorsino.com).
Strange Fruit – Performers
Strange Fruit is a Melbourne-based performing arts company that produces and performs a remarkable style of work that fuses theatre, dance and circus, using a unique elevated medium.
Perched atop 5-metre high flexible poles of original design, the troupe delivers a sublime performance, bending and swaying in the air, captivating and engaging the audience in absolute fascination (strangefruit.net.au).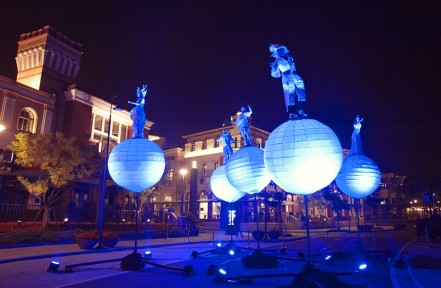 Li Ke (Xiao Ke) – Choreographer and Performance Artist
At the age of six, Xiao Ke began her Chinese traditional dance education and training, which lasted for twelve years until she was enrolled by Fudan University in Shanghai from where she studied modern dance. In 2005, together with Zhang Xian and other artists, she co-founded ZuHe Niao Physical Theatre Company in Shanghai and the company won the ZKB Award at the Zurich Theatre Spektakel in 2006. In 2011, she co-founded the Cannot Help Art Collective with Zhou Zihan and Zhang Yuan that aims at probing into social issues through art that is trans-boundary and diverse. (xiaokelee.com).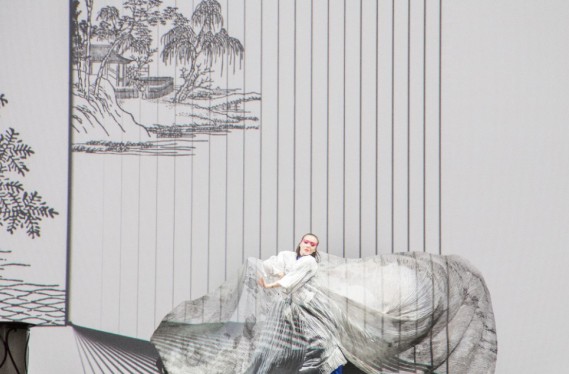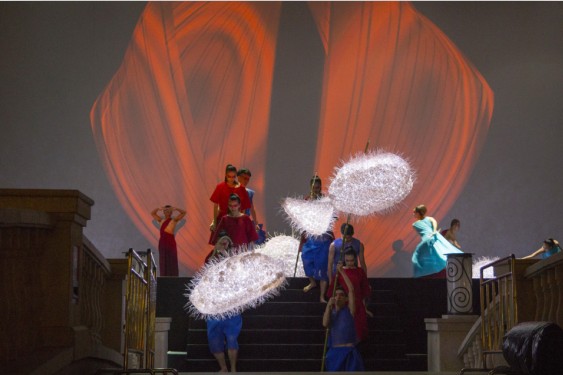 Huzi – Sound designer/musicians
Huzi is an established artist in Beijing's underground music scene, first appearing on stage as the front man in the late 90's alternative folk band, X-Doctor. In 2000, Huzi started to focus his work within the electro genre. Since then, Huzi has released three albums on China's indie label Modern Sky Records, with his last full LP, Gemini Trip, becoming one of the best selling Chinese electronica albums to date. In 2007, Huzi founded Pet Conspiracy, with two former band members. Since the founding, he has served as the band's producer and lead guitarist, and has worked to release the first full-length album, Pet Conspiracy, and the EP, Noise from the Future. Pet Conspiracy is a project, rather than a band, watching their shows is an experience, rather than simple entertainment. They have played in countries around the world, including Germany, Spain, Italy, Norway and Singapore.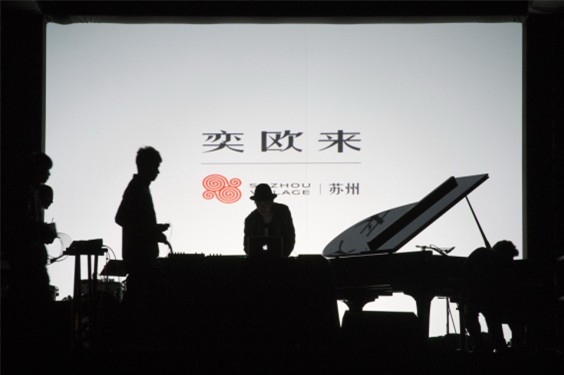 Brandt Brauer Frick – Musicians
BBF is a techno project founded in Berlin. Their approach is to combine electronic grooves with classical music. The instrumental parts of classical music are recorded as samples, processed electronically and performed live in a ensemble. They have performed at a number of international festivals, including the Glastonbury Festival and Coachella Valley Music and Arts Festival. They released You Male Me Real (2007) Mr. Machine (2011) and Miami (2013). (brandtbrauerfrick.de).
Pierre Giner - Visual and Video Artist
Category-defying artist Pierre Giner uses new technologies, video, website and video games as his means of expression. His projects are built on thematic contents, with information and interactivity, critique and romance, and linearity and discontinuity coming together to unfold the theatre of fiction. In 2010 he conceived the exhibition MuseoGames at the Musée des Arts et Métiers de Paris and in 2011 he created CNAPn, a new virtual art space. In 2012 he set up the Imaginarium, a creative laboratory where art, research and innovation come together with public participation. In 2013, given a carte blanche by the CNAP, he designed the exhibition images Comme des oiseaux with photographer Patrick Tosani and devised its digital offshoots. He is currently in residence at the Musée des Arts Décoratifs in Paris and at Lieu Unique in Nantes, tasked with imagining and developing objects, apparatuses and digital programmes for each space. (pierreginer.net).
Patrick Vidal – DJ
Patrick Vidal, resident DJ at Club Silencio (David Lynch's club in Paris), BLT (Maxim's) is a well-known DJ, personality and artist. He was singer/guitarist of the mythic New Wave Punk band Marie & Les Garçons, who recorded with John Cale, played at C.B.G.B, and toured with Patti Smith & Talking Heads. Patrick started to spin in NYC where he lived in the mid-eighties then returned to France where he became Resident DJ at Les Bains-Douches and opened for David Bowie's Serious Moonlight Tour with a new band OCTOBRE. His passion for music led him to DJing, Sound Design, creation of new parties and performances.